Custom Web Design Solutions & Web Development in India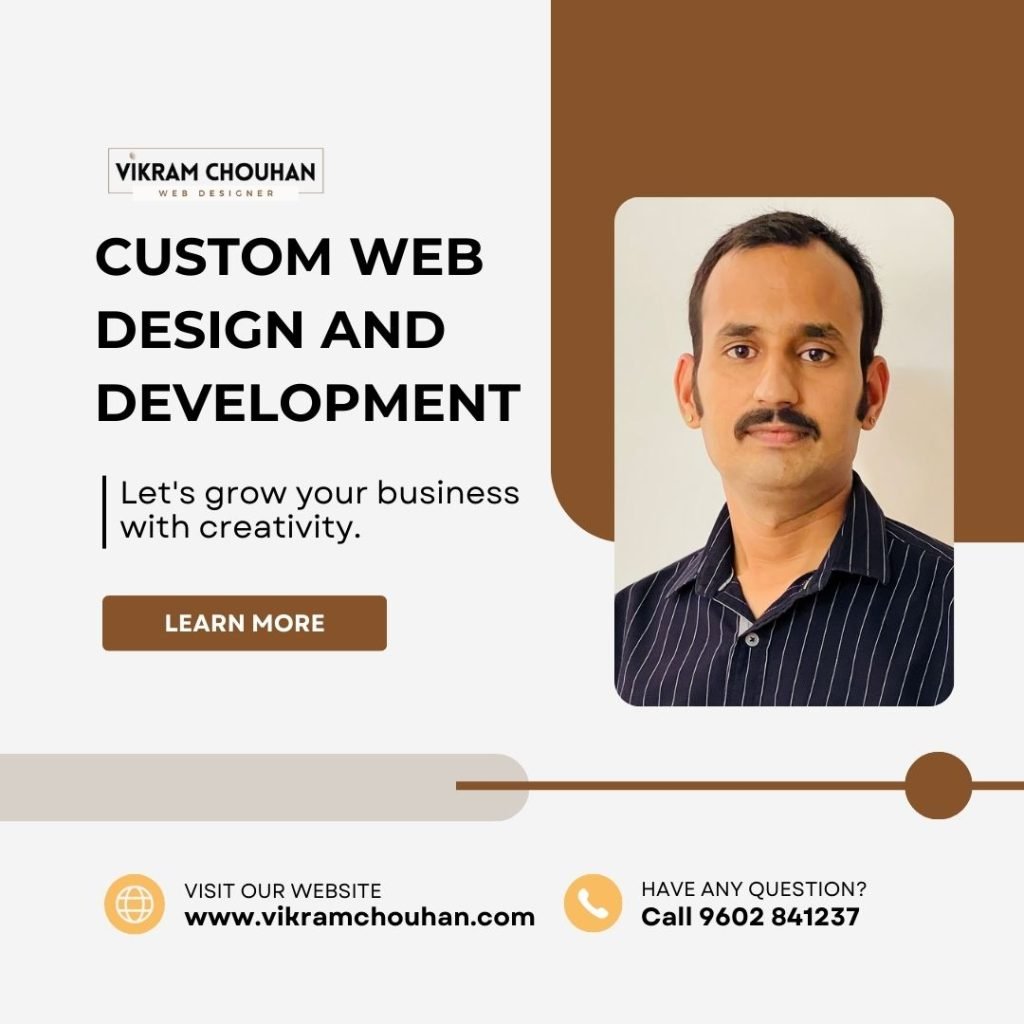 Custom Web Design and development
We offer fully customized web design packages for our clients.
Custom Web Solutions in India
Nowadays, nearly all businesses need websites to survive and grow. However, the needs of each company owners are never the same! Unfortunately, not all web design agencies understand this aspect. Most of them offer predesigned packages to meet client needs and sometimes this does not yield expected result. This is why Custom Website Design is important. As the Best Custom Web Design Company, we, at Vikram Chouhan Udaipur Web Designer offer Custom Web Solutions for clients.
The need for Custom Website Design
Using pre-built templates to design sites may not produce desired results for all business websites. It may take less time but eventually you want a well performing site that succeeds in attracting expected number of viewers and leads to conversions. As the Best Custom Web Design Company, we offer fully customized design packages for our clients.
We try to understand client needs before delving into design. From target audience to niche of business – everything is taken into account. Once that is done, our Custom Web Design And Development team starts the process. Everything from font, content, image, video and SEO is used to suit client needs the best. While designing and developing the sites, our Custom Web Design And Development team ensures navigation and ease of use are not compromised. We also try to deploy ideas and inputs of our clients to meet the objective better. Our skilled Custom Web Designer team is capable of designing your website or redesigning it in the best possible way- while sticking to timeline.
Affordable package, robust support
Our Custom Web Solutions are priced reasonably. Whether you want a website based on CMS framework or database integration is required, we will not tax your wallet heavily! Our Custom Web Designers ensure your needs are met without exceeding your budget. We will like you to compare our package charges with others in the industry.
If you want to know more on our Custom Website Design packages, just contact us. We will love to hear your queries and resolve them fast. Our customer support is prompt and you will get answers to all queries and doubts.
Particular areas of expertise :
• Bespoke WordPress theme development
• E-commerce platforms (specifically woocommerce)
• Responsive web design
• Converting PSD designs to HTML
• Converting HTML to WordPress CMS
• Modifying and customising existing themes
• WordPress optimization for speed and performance
• Migrating websites between hosting providers
• Fixing bugs, browser compatibility issues, mobile testing and various maintenance jobs
Custom Web Solution India
+ PHP4/PHP5
+ HTML5
+ CSS3
+ HTML5 Animation
+ jQuery/Javascript
+ SQL
+ WordPress Web Development, WordPress plugins
+ WordPress Theme
+ AJAX
+ PSD to HTML
+ Web Design
+ Web Development
Our Team specialize in WordPress as a CMS. Having vast knowledge of the WordPress API means great flexibility, but also standards compliant development.
Do let me know your views and I would be happy to provide further details.
Call me or Whatsapp at +91 960284 1237 or Mail at
ervikramnathchouhan@gmail.com for Web Designing Solution in India. Contact Detail